Published on ; Last updated on ;
A chicken coop is one of the most critical elements of keeping a happy, healthy flock of chickens. If you plan to raise backyard chickens, you must build them a safe home where they can sleep, eat, roost, and rest. Of course, building a chicken coop can be a perfect weekend project for any savvy DIYer who loves sustainable living. However, like any other do-it-yourself project, building a chicken coop takes know-how, resources, and a chicken coop plan. And be sure to check with the local zoning department to ensure that raising backyard chickens is permitted in your town.
So, how much does it cost to build a chicken coop?
The cost of building a chicken coop can vary greatly, depending on several factors, including design, coop materials, type of flooring, and size. On average, most coop building projects cost between $300 and $2000, but the cost can go up to $2000 or more, with the national average standing at $650. Ultimately, the actual cost of building your chicken coop will entirely depend on what you want your final product to look like.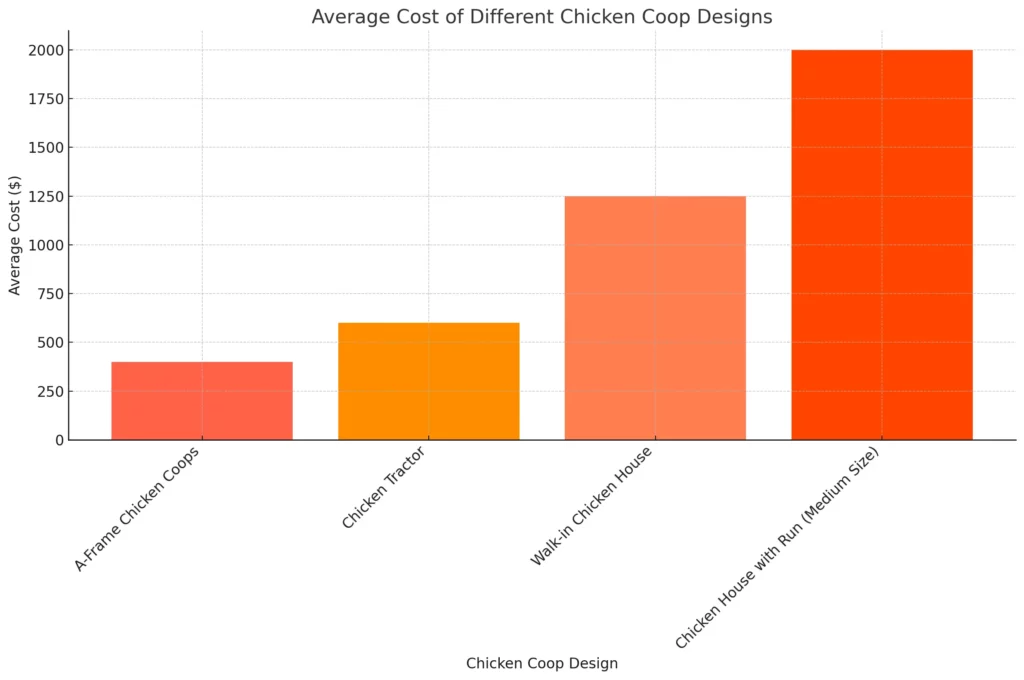 What Goes into the Cost of Building a Chicken Coop?
Chicken coops are a great addition to any backyard and come in various designs, materials, sizes, and configurations, meaning there are a lot of associated costs. The cost of building coops varies dramatically, depending on the size of the coop, the quality of materials used, distinctive features, and other details that go into the coop's design. The more intricate your design gets and the higher the quality of materials you use, the more it will cost you to build your hen house.
Framing and Exterior Material
While most people build chicken coops using a combination of lumber and plywood, there are many options from which you can choose. Regardless of the design, if you are constructing a chicken coop, the materials you choose and their quality impact the total cost of your project.
To help you stick to your budget when building your coop, here are various materials you can choose from and their prices.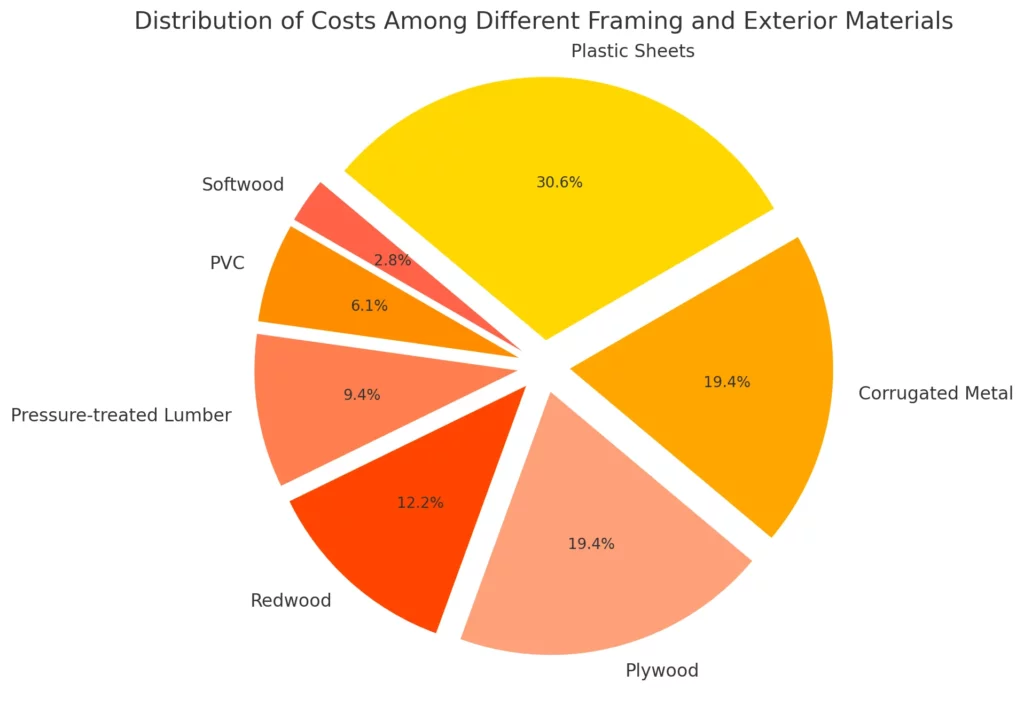 Softwood:

Softwood framing lumber is inexpensive and more readily available for framing walls and roofing. Although the price can vary depending on quality, most lumber yards offer softwood at $2 – $3 per board foot. You can build a coop entirely out of softwood or pair it with plywood and mesh.

PVC:

Loved for its long-lasting durability, cellular PVC (Poly Vinyl Chloride) is solid plastic lumber that's used as trim boards. It costs about $5 – $6 per linear foot.

Pressure-treated lumber:

At $7 – $10 per board foot, pressure-treated lumber is a relatively affordable framing material and comes with some rot-resistant and pest-resistant properties. Note that unlike the traditional treated lumber, which contained harmful chemicals, such as copper arsenate, today's treated lumber is much less toxic and safe for chickens. However, this doesn't mean they are entirely safe.

Redwood:

Redwood is the go-to framing wood for those looking to build a durable coop while avoiding treated lumber. It is naturally rot- and pest-resistant, meaning you don't need to treat or seal it. However, it is relatively expensive, at around $10 – $12 per board foot.

Plywood:

Whether it is walls, roofing, or flooring, plywood is an ultra-versatile building material. It costs between $10 and $25 per sheet. Just be sure to use plywood that's rated for exterior use.

Corrugated Metal:

At around $15 – $20 per sheet, corrugated metal is a durable, low-maintenance sheeting material ideal for walls and roofing. You can use your lumber of choice for the frame.

Plastic Sheets:

At around $25 – $30 per sheet, you may be surprised that plastic is one of the most expensive sheeting materials. If you can find high-quality plastic sheets, it cuts and Screws together easily.
Flooring Material
A decent chicken coop floor can help deter predators and make cleanup easier while adding a layer of insulation. While a floor isn't absolutely necessary, here are several options if you are interested in adding a floor: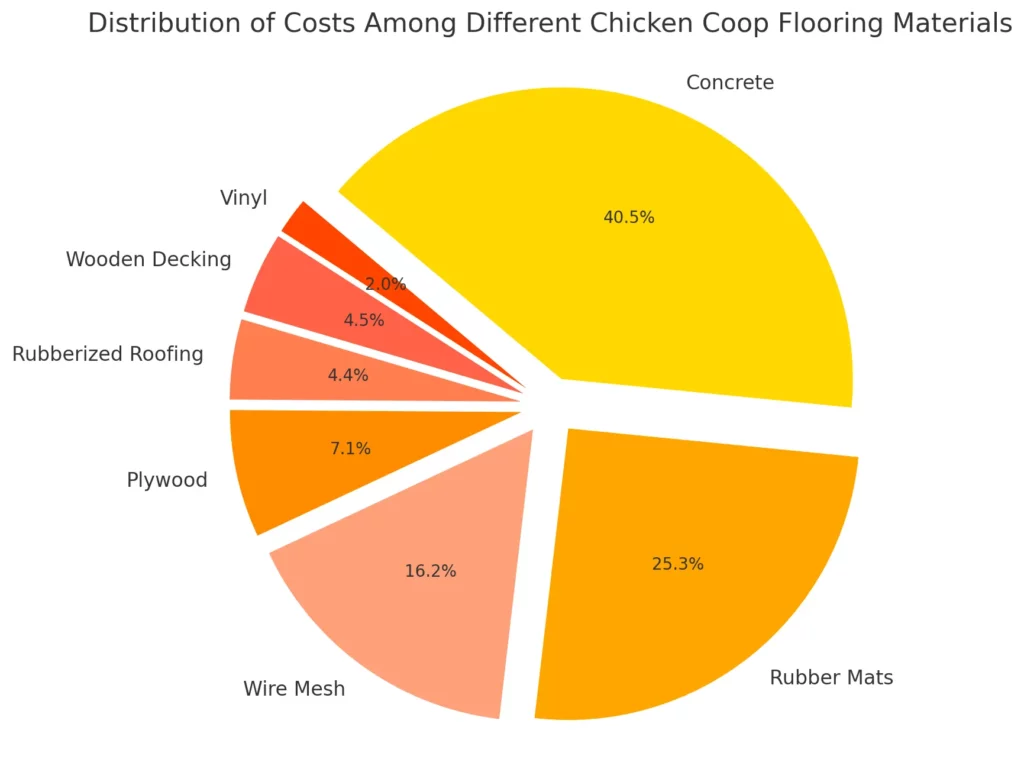 Vinyl:

Vinyl sheet flooring, also called resilient flooring, is a cheap, easy-to-install, and easy-to-clean flooring material that works well with a plywood subfloor. It costs around $ 2 – $8 per square foot on average, but it is not as durable as other flooring materials, and it can be damaged by moisture and pests. 

Wooden decking:

Wooden decking, made from 5/4-in. X 6-in. pressure-treated lumber creates a durable, easy-to-install coop floor. It costs about $1.40 per linear foot and comes in lengths up to 16 ft. Be sure to apply a clear wood preservative to seal out odors and stains.

Rubberized roofing material:

When used on floors over plywood, rubberized roofing material offers a comfortable surface for your chickens to walk on. Of significance, although it is inexpensive, at around $7 to $15 a square foot, and easy to install, it can  tear when used long-term, requiring replacing every few years

Plywood:

Plywood is available at roughly $10 – $25 per sheet and makes an excellent coop floor. It is easy to install and low-maintenance. However, it tends to absorb odors and can be chewed through by predators. To make plywood weather-resistant and easy to clean, apply two coats of exterior-grade marine varnish to both sides.

Wire:

Retailing at around $40 per roll, wire mesh offers an easy way to create a coop floor but needs to be covered with a deep layer of sand, sawdust, or straw to prevent damage to the chicken's feet.

Rubber mats:

Like rubberized roofing material, rubber mats are very comfortable for your chickens to walk on. Because they are heavy, they also work well against predators. Rubber mats cost roughly $45 to $80 per sheet. If you have difficulty finding suitable rubber mats, try horse stall mats, which are sold at farm-supply stores.

Concrete:

This is the ultimate floor choice if you want something long-lasting. A poured concrete coop floor will deter predators and is easy to clean. Installing a concrete floor will cost about $75 – $125 per cubic yard. Be sure to apply at least two coats of clear masonry sealer to seal out odors and stains and to deter cracking.
Whether you are a passionate bird lover or simply fancy freshly laid eggs, building a chicken coop can add character to your garden while providing your feathered friends with a safe and healthy space where they can take refuge. Whatever your reason for keeping backyard chickens, if you plan for a DIY coop, here are factors to consider when budgeting:
Chicken Coop Prices Based on Design
How fancy do you want your chicken coop to look? Chicken coops can be designed in any shape or configuration imaginable, which is crucial in determining the overall building cost. While it is not uncommon to find bird growers with unusually elaborate plans, most chicken coops fall under one of these basic styles.
A-Frame Chicken Coops
A-frame chicken coops are the cheapest and easiest to build, costing around $300 to $500. They are also easy to build, which makes them ideal for beginner chicken growers with low carpentry skills.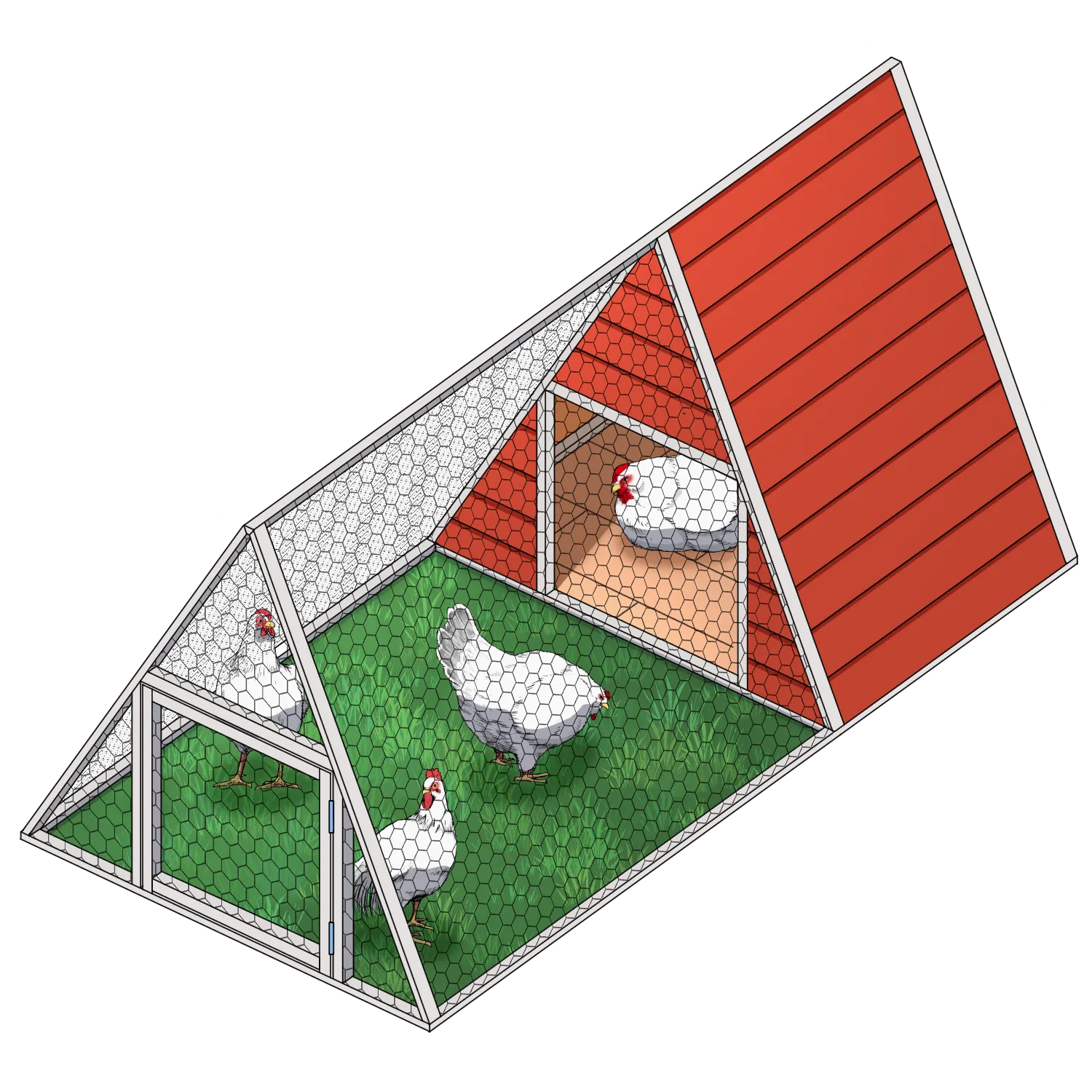 Of significance, while A-frame chicken coops are inexpensive to build, they are tiny, so you will need space where your hens can free-range during the day.
Chicken Tractor
Chicken tractors typically cost between $500 and $700, making them inexpensive. If you are a savvy DIYer, you can build a chicken tractor from scratch within a day if you have all the materials, hardware, and tools.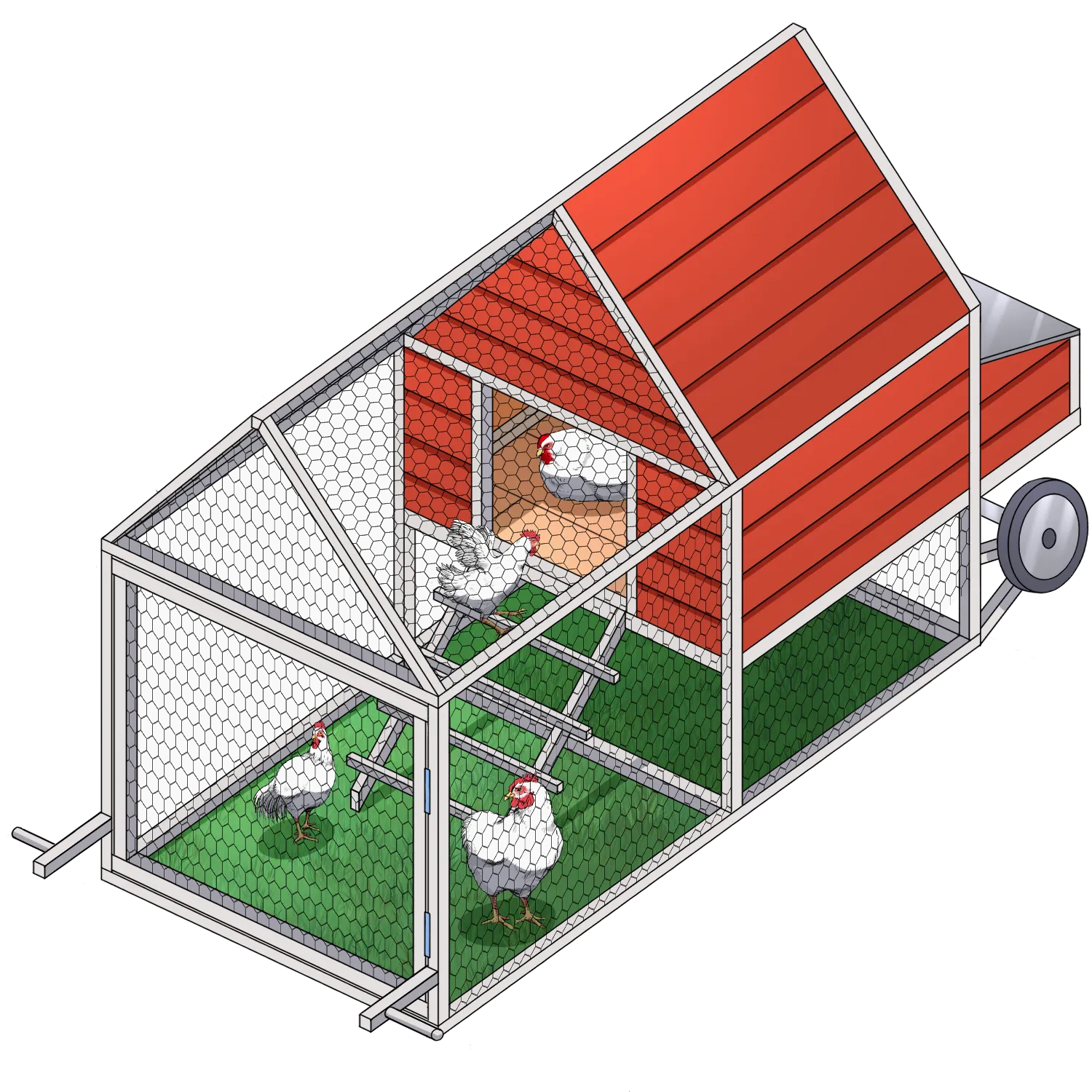 Walk-in Chicken Coop
Engineered for performance and durability, walk-in chicken coops offer a comparatively safer environment for your birds and can cost anywhere between $1,000 and $1,500 to build. However, it is easy to spend upwards of $1,500, especially when constructing a larger coop with more elaborate features.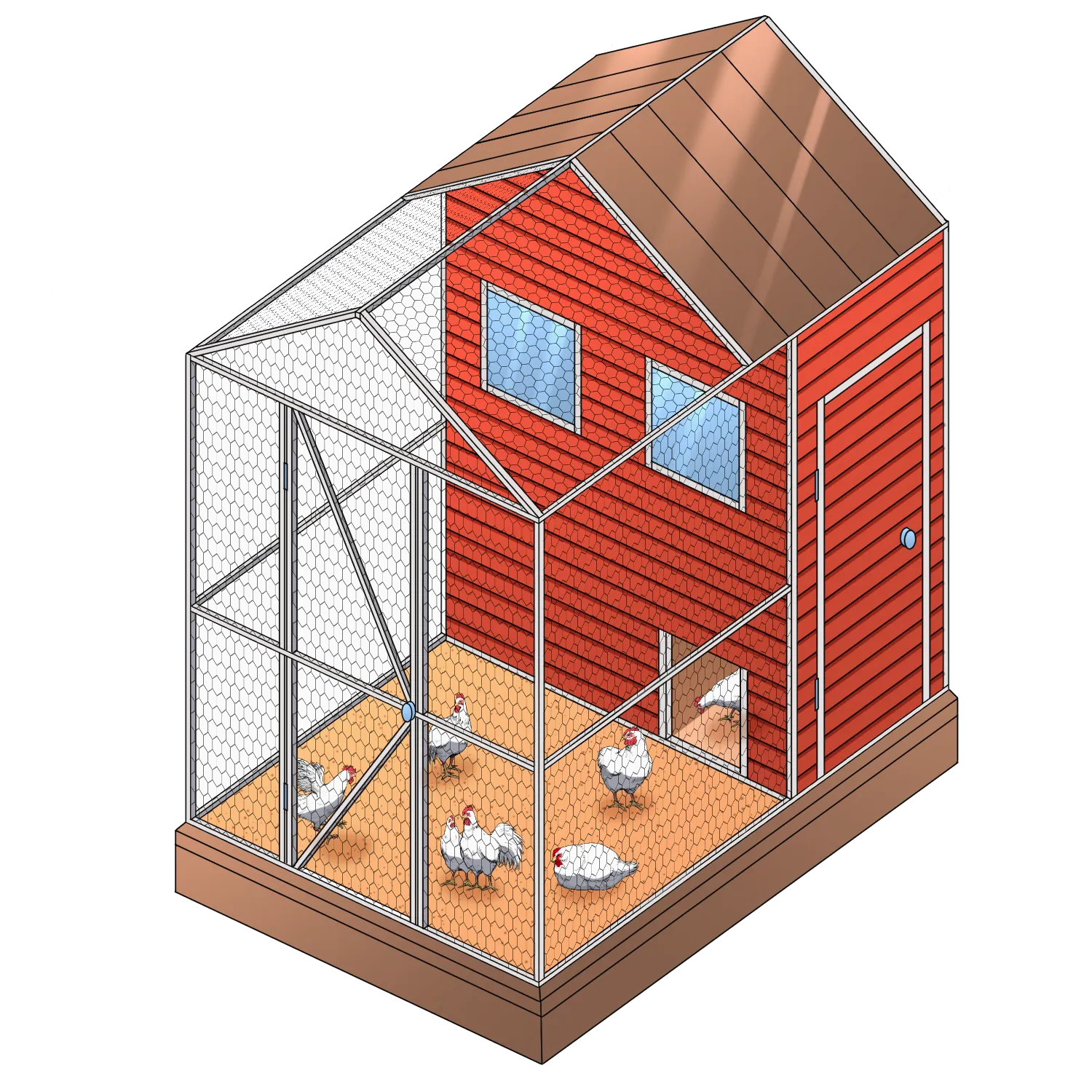 If you are on a budget and want to create a walk-in chicken coop, you can repurpose a storage shed or other existing outbuildings. Ultimately, how much you will spend depends on the coop size you are building.
All-in-one Chicken Coops
You can expect to spend an average of $300 to $2,000 when building an all-in-one chicken coop, but the cost can quickly double, depending on the size and how elaborate you want the coop to be. You may even spend over $4,000 to build a sizeable self-sustaining coop.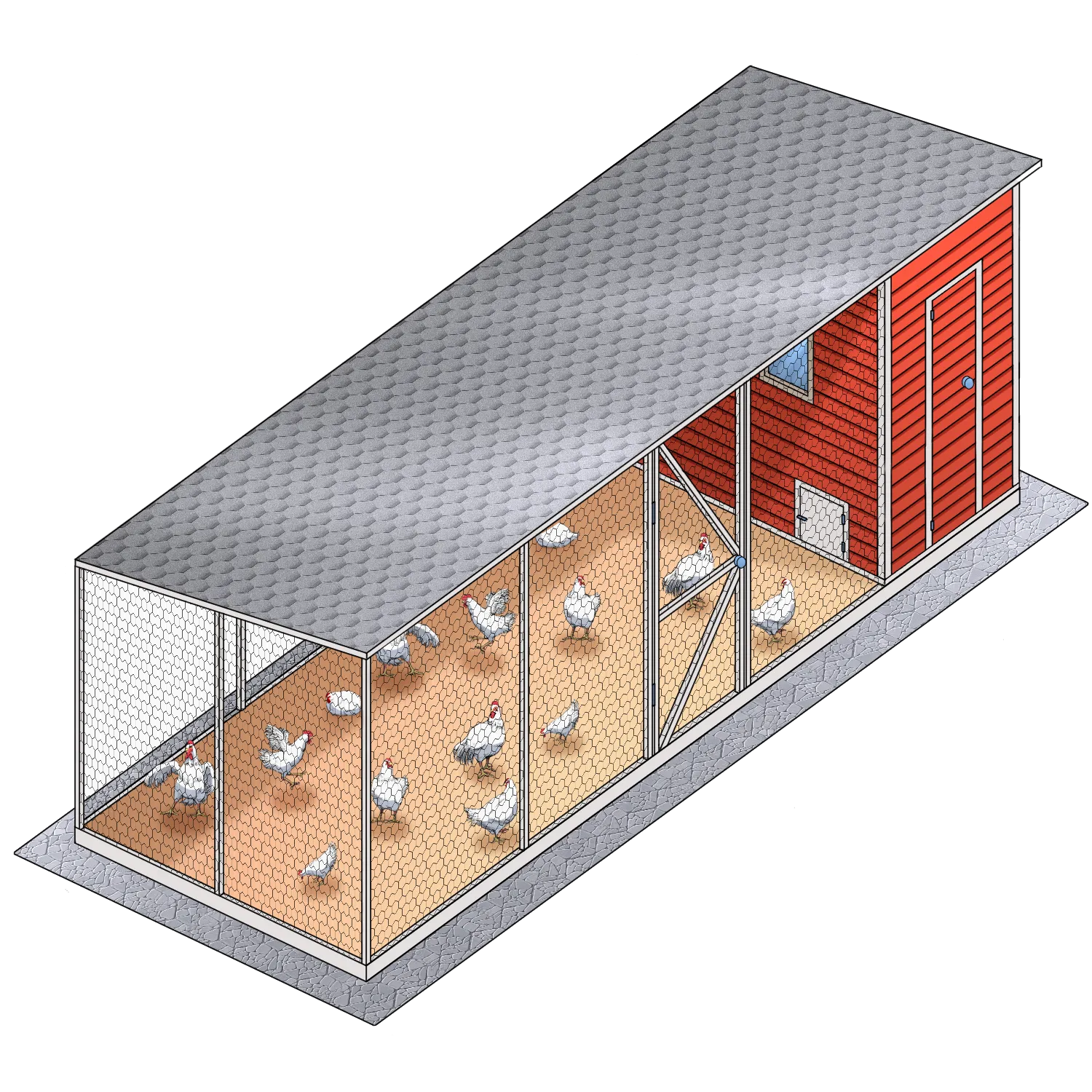 Besides the usual costs, building an all-in-one chicken coop might require fancy tools, which can quickly add to the overall costs. You may need a bunch of fancy tools to build an all-in-one chicken coop, so make sure to budget for everything.
Size of the coop
The ultimate size of your coop depends on the number of chickens you want to keep. The bigger the cage, the more it will cost you to build it. When deciding the size, remember that each bird needs about 4 square feet of coop space and 8 square feet of run space. Read this chicken coop size guide if you need additional guidance.
Features
At the bare minimum, you should furnish a chicken coop with nesting boxes and roosting bars for sleeping. However, there are a host of optional features that you can add to your chicken coop. You may want to add storage units for feed and cleaning supplies, ventilation control, a shutter for light, temperature control for extreme heat or cold, egg catchers, a quarantine area, and more. Adding these enhancement and convenience features can quickly add to your cost. For instance, a typical egg catcher costs around $20 to $100, and a temperature control kit costs about $50 to $300. The costs can quickly get outside your budget.
All in all, even if you are on a budget, it is imperative to ensure your chicken coop is complete with the basic creature comforts: nesting boxes and roosts.
Keeping it within budget
If you are within budget, you can purchase the supplies and start building your chickens a place they can call home. Otherwise, get back to the drawing board and make the necessary adjustments to your initial plan.
When it comes to building a hen house, it is a good idea to start small, with a flock of three or four chickens and a coop large enough to keep them happy and healthy. A small flock will help you understand what it is like to keep backyard chickens and what the birds need in the coop. If you find the chicken-rearing hobby captivating, you can save it for your dream chicken coop.
Regardless of how many birds you want to keep, a chicken coop is often an elementary structure that needs a relatively small investment. In most cases, building your chicken coop will cost you about half of what you could pay for a ready-made coop, which makes it a cost-saving approach to owning a coop.
Conclusion
Chicken coops are simple structures that anyone relatively skilled can make reasonably quickly. According to community discussions, most people spend roughly $300 to $1,000 to build chicken coops. However, it is always good to set a budget first; otherwise, you may spend a lot more on constructing a hen house. The idea is to plan everything first and only go with what you can afford.
A chicken coop offers an easy way to add interest to your backyard and ensure you have fresh eggs.
Was this article helpful?
Thanks for your feedback!